Conference | Growing Futures: Vegetal Encounters in Contemporary Children's and Young Adult Ecofiction | April 25-27, 2024 | University of Cologne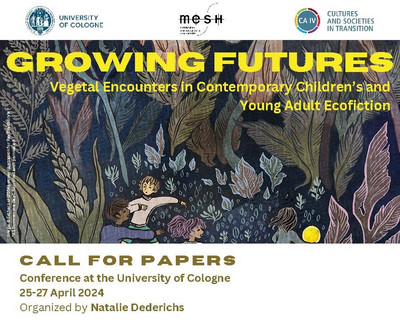 In a time of climate emergency, the popularity of children's and young adult ecofiction has increased tremendously over the last few years, resulting in evermore narratives that address the challenges – and horrors – of living on a dying planet. Although the destruction of habitats and ecosystems resonates in all of these stories in one way or another, discussing literary stagings of human-plant relationships in light of eco-pedagogically and philosophically grounded theory has been a blind spot in ecocriticism and literature pedagogy until recently. One reason for this might be that plants still tend to be overlooked as living beings in the Western hemisphere, which is why the vegetal world is widely imagined and represented in terms of a passive landscape or background rather than an agential force in literary fiction and beyond.
The emerging field of plant studies has tasked itself with counteracting this apparent 'plant blindness' in research and society, thereby contributing to a critical examination of the interactions and interdependencies between human and plant life. And while studies about botanical representations in the context of children's and young adult fiction are indeed accumulating, what is missing is a genre- specific framework for the analysis of such representations in the context of eco- or climate fiction. By addressing ethical, philosophical, pedagogical and aesthetic questions regarding the relevance of plants in this genre, one aim of this conference is to explore how exactly vegetal encounters are re-imagined for a younger readership against the backdrop of a deepening environmental crisis.
Likewise, there is as yet no ecopedagogical consideration of the chances and challenges of teaching human-plant relationships in literary and language education. This is rather surprising, given the importance of plants for our survival on a warming planet. Since the conference intends to forge a dialogue between ecocritical research and literature pedagogy, a second aim is to investigate what primary and secondary school teachers can do to address the troubled relationship between human beings and the vegetal world in literary learning contexts. This includes a discussion of (1) which texts are available, appropriate and manageable to teach in class, also with regard to inclusive settings, (2) the kind of methods and tasks that can and should be used to teach such texts, (3) the way in which reading about fictional human- plant relationships can facilitate an aesthetic engagement with and understanding of the climate crisis, and (4) how our current curricular frameworks need to be adapted to give credit to the importance of literary plant encounters in the context of the cross-curricular task of Education for Sustainable Development.
We are seeking contributions that address questions such as the following: What role does the representation of plants play in the context of eco- or climate fiction and what challenges arise for selecting appropriate reading materials for the (foreign) language classroom in primary and secondary schools? Can different types of plant representation be identified in works of children's and young adult ecofiction, and if so, what culturally specific perspectives do they offer on the human-plant relationship in the 21st century? What themes, tropes and motifs are common to narrate plant-human relationships in children's and young adult ecofiction? To what extent can an engagement with literary plant representations contribute to an examination of the environmental crisis, especially within the context of Education for Sustainable Development? And what tasks and methods are suitable for highlighting or problematizing human-plant relationships in literary and (foreign) language learning contexts?
Interested scholars, early career researchers and teachers are invited to submit 250-300- word abstracts for 20-minute conference presentations that explore literary plant encounters in children's and young adult ecofiction and the role such encounters have or can have in sustainability-oriented (foreign) language learning contexts in primary and secondary education.
Topics can include but are not limited to the following:
themes, tropes and motifs used to narrate the vegetal world in children's and YA- ecofiction
agentic and/or negative representations of a destroyed and degraded flora
victimized and/or evil plant protagonists imaginations of parasitic and infectious and/or recovering plant life
plant horror and the environmental crisis the relationship between plant life and climate change
the eco-pedagogical potential of literary plant-encounters
text selection in the context of primary and secondary education
teaching methods, task-design and lesson plans
teaching plant-focused ecofiction in inclusive settings
curricular considerations and sustainable development goals (SDGs)
Paper presentations should be given in English. Please send the abstract of your proposed paper with a brief biography (50 words) to n.dederichs
uni-koeln.de by November 30, 2023.
MESH Symposium 2023 | Decolonial Cultural Ecologies | October 26–27, 2023 | University of Cologne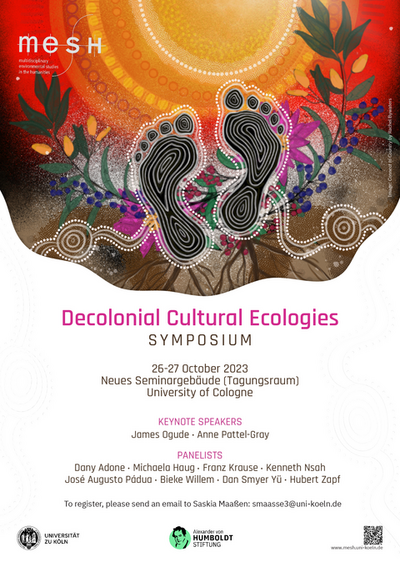 We are excited to announce that the official programme for our MESH Symposium "Decolonial Cultural Ecologies" on 26–27 October 2023 has been released.

Registration is free, but required for catering purposes and to attend the keynotes remotely. To register please contact Saskia Maassen: smaasse3[at]uni-koeln.de

The overall objective of our MESH 2023 Symposium "Decolonial Cultural Ecologies" is to highlight the crucial importance of the environmental humanities to the integration of culturally diverse and decolonial knowledges, imaginaries and practices into what is currently referred to through a Euro-western lens as global environmental change research and biodiversity conservation policy development.
Keynotes
Our symposium's opening keynote on Thursday evening will be presented by Professor James Ogude from University of Pretoria, South Africa. Prof Ogude is the director of the Centre for the Advancement of Scholarship where he leads the African Observatory for Environmental Humanities. Among his many publications is a co-edited volume on Environmental Humanities of Extraction in Africa: Poetics and Politics of Exploitation. He also leads the Southern African Hub of the BRIDGES Sustainability Science Coalition.
Our second keynote will be presented on Friday morning by Professor Anne Pattel-Gray, Professor of Indigenous Studies and inaugural Head of the School of Indigenous Studies at the Australian University of Divinity. She is a descendant of the Bidjara / Kari Kari people of Queensland and a celebrated Aboriginal theologian, biblical scholar and Indigenous activist. Among her many publications is De-Colonising the Biblical Narrative (vol. 1, 2022), co-authored with Norman Habel in collaboration with Australian First Nations.

Panelists
Our invited speakers represent a group of interdisciplinary experts that will provide their regional insights on decolonial cultural ecologies from the Americas, Asia, Australia, and Africa:
Dany Adone (Applied English Linguistics, University of Cologne)
Michaela Haug (Social and Cultural Anthropology, University of Freiburg)
Franz Krause (Social and Cultural Anthropology, Global South Studies Center (GSSC), University of Cologne)
Kenneth Nsah (Comparative Literature and Environmental Humanities, University of Lille)
José Augusto Pádua (Brazilian Environmental History, Federal University of Rio de Janeiro)
Bieke Willem (Romance Literature, GSSC, University of Cologne)
Dan Smyer Yü (Ethnology, University of Yunnan; Global Faculty Member, GSSC, University of Cologne)
Hubert Zapf (Environmental Humanities, University of Augsburg)
https://mesh.uni-koeln.de/events/meshworks/mesh-symposium-2023