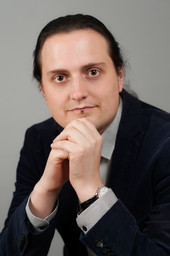 Jun.-Prof. Dr. Roman Bartosch
Associate Professor of Anglophone Literatures and Cultures and
the Teaching of English
English Department II
Gronewaldstrasse 2
D-50931 Cologne
Office: 1.104a
E-Mail: roman.bartosch@uni-koeln.de
Tel.: +49 (0)221/470 4642
Office Hours
I am currently on research leave and might be slow to respond to email. No office hours scheduled at this point.
Upcoming Talks
"Language, Literature, Environments: Two Apes in Conversation", Symposium The Long and Winding Road: Sprache, Diversität und Englischunterricht, University of Cologne, May 20, 2022.
(with Pavan Malreddy) "Environmental (In)Justice and Ecological Solidarities", Teacher Training Workshop at the 32th Annual GAPS Conference, Contested Solidarities, University of Frankfurt, May 27, 2022.
(with Julia Hoydis) "Literacy, Climate Action, and Quality Education: Three Cases for Diversity", Literacy and Diversity: New Directions (22nd European Conference on Literacy and the 46th Annual Conference of the Literacy Association of Ireland), Dublin City University, July 4-6, 2022.
"How Can We Read When Our Beds Are Burning? Teaching English Literature in Terrible Times", UNITE Summer School Sustainability in Schools and Teacher Education. International Perspectives and Impulses, University of Cologne, September 19-23, 2022.
Current Projects | Aktuelle Projekte
Climate Change Literacy
Wissenschaftsforum zu Köln und Essen: Cultures of Climate
Transversale Literaturdidaktik
Mediating Socioecological Emergencies: The Environmental Humanities for Well-being (EHWell)
Death Writ Large: Extinction and the Environmental Humanities
"Diversitätsorientierte Literatur-, Kultur- und Sprachdidaktik" (dilikus)