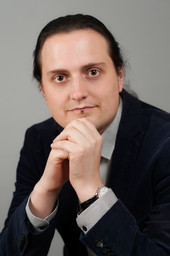 Jun.-Prof. Dr. Roman Bartosch
Associate Professor of Anglophone Literatures and Cultures and
the Teaching of English
English Department II
Gronewaldstrasse 2
D-50931 Cologne
Office: 1.104a
E-Mail: roman.bartosch@uni-koeln.de
Tel.: +49 (0)221/470 4642
Office Hours
Due to the coronavirus situation, there will be no regular office hours until further notice. Please contact me via email.
Please note that I will be on leave from Sep 15 to Oct 14. BA/MEd and postgrad supervision will continue but due to my limited access to my mail and the internet, I will not be able to answer students queries or offer office hours.
Upcoming Talks
"Posthumanism and Literary Learning: Lessons in Relatability", 6. Tag der Englischdidaktik, Augsburg University, 17.7.2020 (digital meeting). .
"'to die will be an awefully big adventure'? Death, Extinction, and the Limits of Competence Orientation", Taboo Topics in Foreign Language Education, Würzburg University, 13.-14.11.2020 (virtual meeting).
Current Projects | Aktuelle Projekte
Literature, Pedagogy, and Climate Change
Interkulturelles Lernen im Englischunterricht: Fokus Nigeria
Communicating Climate Change
Transversale Literaturdidaktik
Death Writ Large
"Diversitätsorientierte Literatur-, Kultur- und Sprachdidaktik" (dilikus)