One semester at Washington & Jefferson College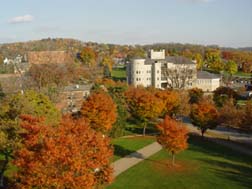 The exchange with Washington & Jefferson College in Washington, Pennsylvania is a particularly interesting opportunity for students of English Seminar II. Each year 2-3 students have the possibility to study for one to two semesters at the college located 30 miles south of Pittsburgh.
You can find out more about the college on the W&J College website. The internal application deadline for a stay at W&J is always the end of January and applies to the following phases:
Winter semester or academic year of the same year (i.e. end of August to mid-December of the same year or end of August of the same year to mid-May of the following year)
Spring semester of the following year (end of January to mid-May of the following year)
The following application documents have to be submitted to Dr. Gilbert for the internal application:
a short cover letter in which you also clearly indicate the exchange period for which you are applying,

a letter of motivation in English in which you explain your motivation and the reasons why you would like to study at W&J College,

a tabular curriculum vitae incl. passport photo,

an official overview of your academic achievements (Transcript of Records; authentication can be done later)

The additional application documents required (1. a letter of recommendation from one of your professors, 2. the official W&J application form and 3. the result of an English language test conducted by Dr. Elisabeth Gilbert) can be submitted at a later date.
Further information on this exchange can be obtained from Dr. Gilbert